An outbreak of a virus fatal to hogs that surfaced last summer shows no signs of stopping. African Swine Fever, nicknamed "pig Ebola," has expanded from China to neighboring Southeast Asian nations.
The virus—and pork producers' response to it—has significantly interrupted the pork production pipeline.
Below, read why an illness that could eventually lead to the liquidation of almost a quarter of the world's hogs will also take a significant bite out of U.S. dairy ingredient exports.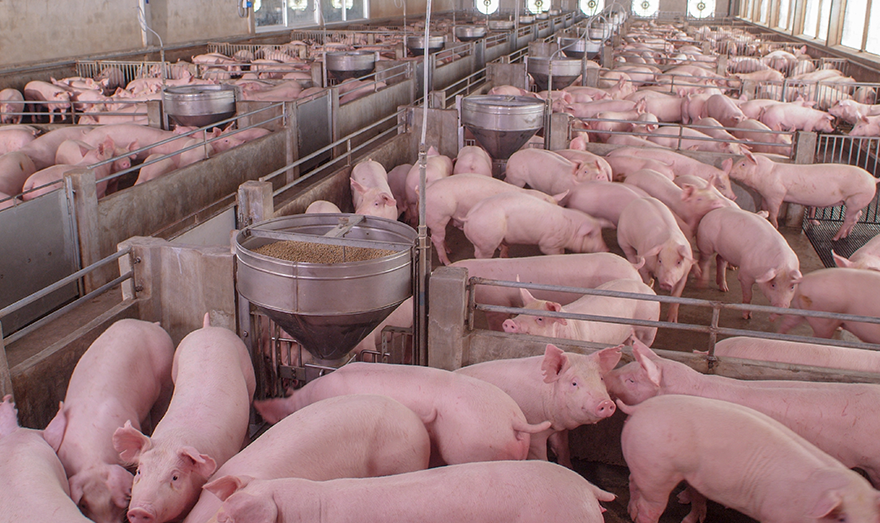 Why does this matter to the dairy industry?
Dry dairy ingredients, mainly carbohydrates, are staples in the diets of piglets newly weaned off their mothers' milk. The products are favored by large-scale pork producers because they're cheap, they have a long shelf life, they ship easily and they're crammed with nutrients that help piglets grow bigger, faster.
But the outbreak in East and Southeast Asia has seriously diminished demand for these products, a significant share of which comes from U.S. processors. To combat the spread of the virus, producers have:
Rushed more hogs to market than normal.
Ceased breeding to replenish depleted supplies.
Culled over 1.2 million pigs that were infected or at risk of infection.
Because so many animals have been sent to market early or destroyed in the attempt to thwart the virus, the pipeline of piglets is severely constricted. It'll stay that way until commercial hog farmers in affected areas feel confident in investing in breeding sows and raising piglets again.
The dairy industry will continue to suffer sustained weakness in powder prices if nothing changes. In our podcast The Milk Check, we discussed African Swine Fever virus in detail with an ingredient supplier with a front row seat to the crisis. But he thinks there's opportunity for growth despite the crisis. Listen to the discussion here to learn more.
Where did African Swine Fever virus come from?
Most sources state the virus broke out in northern China in the summer of 2018, but that's not when this particular strain of the virus emerged. It's just when it hit large-scale pork production sites and started causing the problems authorities across East Asia now struggle to contain.
According to a CDC research letter, the p72 genotype II strain can actually be traced back to comparatively smaller outbreaks in Poland in 2015, Estonia in 2014, Russia in 2012 and even as far back as Georgia (the country, not the U.S. state) in 2007.
African Swine Fever virus typically moves among feral hog populations. World health authorities believe the current strain bounced around eastern Europe and western Asia in that fashion until it reached a large farm in China. Once introduced to hogs kept in close quarters, the virus becomes incredibly hard to contain.
African Swine Fever virus does not affect humans. It has not reached North America as trade authorities have enacted bans on pork imports from countries with confirmed cases of the virus.
How bad has it gotten?
It's unprecedented. Prior to the outbreak, China was home to about 440 million hogs—around half of the world's population. After the outbreak was confirmed in August 2018, fatalities and cull numbers climbed steadily upward.
African Swine Fever virus has additionally been confirmed in Vietnam, Cambodia, Hong Kong, Mongolia and North Korea. Thailand, the second-largest producer of hogs in Asia and home to 2 million pigs, is on "red alert." Officials there believe it's only a matter of time before the virus enters the country.
According to the Dutch agricultural finance firm Rabobank, fatalities from the virus and culling could together account for as many as 200 million lost hogs before the crisis ends. That's almost a quarter of all the hogs on the planet.
In addition to the dairy industry impacts we noted above, pork prices will continue to track upward. Imports of hogs to Asia from Europe and the U.S. are expected to increase.
When will it be contained?
Stakeholders—from suppliers and buyers to trade groups and even governments and militaries—have mobilized a multi-national effort to combat the spread of the virus. Strict controls are in place at every stage of the industry, from ports of entry and processing facilities down to individual farms.
But even then, African Swine Fever will not quickly disappear. There's no cure, so prevention and containment are the only options. Given the scope of the outbreak and the international coordination and cooperation required to control its spread, it could take years before the industry recovers.
Has the African Swine Fever virus outbreak impacted your exports? Are you stuck with surplus supply and need to find a buyer? Talk to our dairy ingredient sales team.